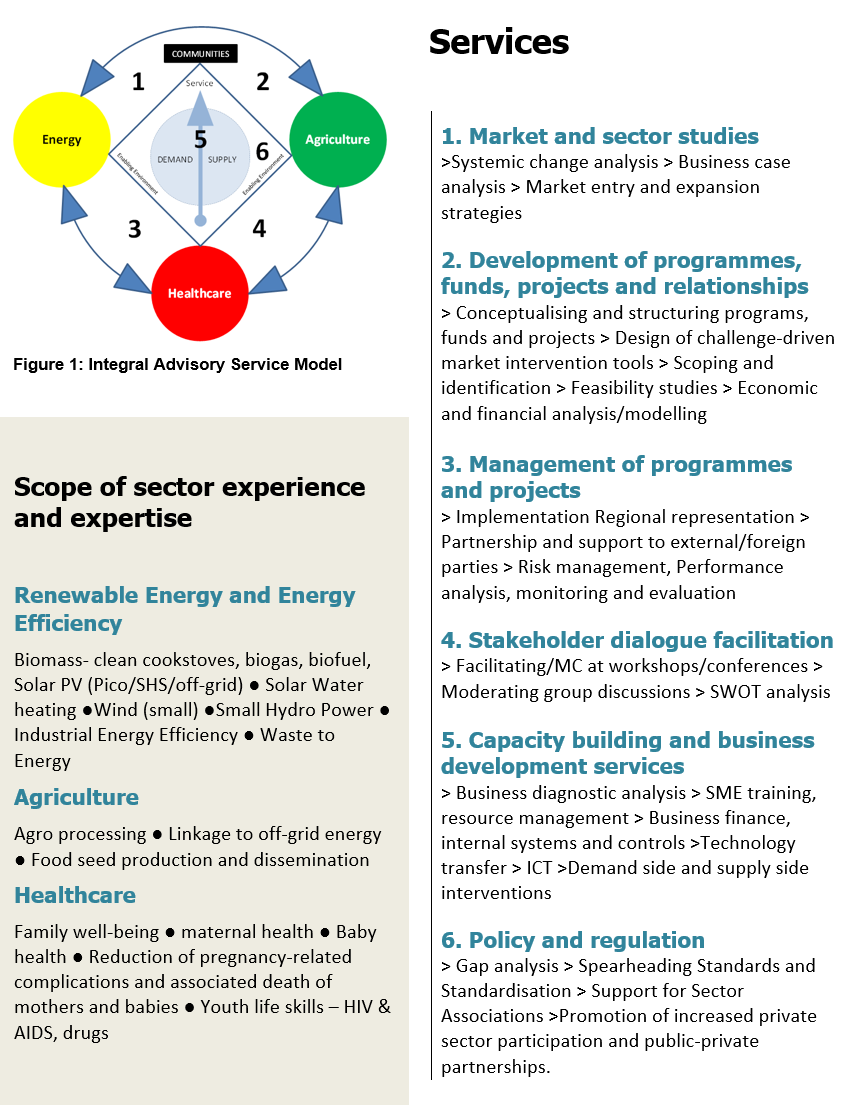 We work with stakeholders, private sector, Governments, Development Partners and Non-Governmental Organisations to:
Conceptualise
Develop
Implement
Monitor
Initiatives and projects with lasting socio-economic impacts.
We especially love to work on agri business, renewable energy and health projects. We address digitalisation as a cross-cutting need, and climate as the necessity of our time, and integrate these in our work.
Youth employment is another major area of interest for us, given the difficult times youth currently face in Africa, in getting connected and integrated into work, enterprise and business opportunities.
We pride ourselves in our ability to capture the essence of change and the delivery of focused quality outputs.
We can handle any set of inter-linked actions in capacity building, market development, financial structuring, enterprise and investment support services.
The company's orientation is socially responsible enterprise.
Over the past 20+ years we have provided services in 15 African Countries, and had offices in Kenya and Uganda.
Our Team has undertaken work in West, East and Southern Africa, comprised of the following foot print: Ethiopia, Tanzania, Uganda, Zimbabwe, Zambia, Cote d'Voire, Mali, Morocco, Mozambique, Malawi, Rwanda, Burkina Faso, Ghana, Tunisia, and Kenya.
Who we have served in the past
Integral Advisory, has over the past 20+ years developed working relationships with international development partners, Government, local and regional institutions and been involved in programmes with demonstrable impacts.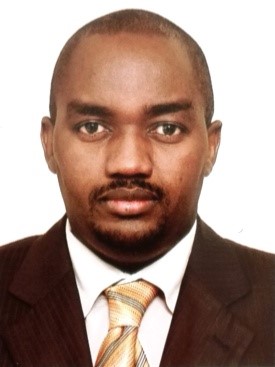 Ashington Ngigi, Director
+254 797771771
consulting@integral-advisory.com
Consultant, Businessman and Techpreneur
Founder-investor in digital platforms and mobile applications: Yakazi.com, Fululizo.com, PriceKata.com, Babylovenetwork.com
Ashington Ngigi is a development expert focused on energy, health and agribusiness, with 30 years' experience providing services regionally in Africa.
He has executed numerous assignments for leading international institutions including the World Bank, African Development Bank, Agence Francaise de Developpement, German Technical Cooperation, Global Environment Facility, Global Alliance for Clean Cookstoves (GACC), European Union, International Finance Corporation and others.
He started his professional career with leading consultants, Price Waterhouse, after graduating in Economics (Hons.). Thereafter he acquired professional accounting qualifications and served leading private sector companies.
In 1998 he joined the development sector, working as Deputy Country Manager (Kenya) and later as Country Manager for a World Bank project.
He has previously been the East Africa Representative for the Triodos Renewable Energy for Development Fund, and has structured facilities and undertaken appraisals on behalf of the World Bank, GIZ, IFC, and others.
He has been involved in conceptualization of energy financing mechanisms in East Africa, in which he has interacted with several leading financial institutions in Kenya, Uganda, Tanzania and Rwanda. In the agricultural sector, he has provided services in 14 African countries, working with grantees of the Alliance for a Green Revolution in Africa (AGRA).
Previously, Ashington was part of a 4-member Scaling-Up Renewable Energy Program in Low Income Countries (SREP) International Expert Group responsible for reviewing competitive funding proposals submitted by multilateral banks (AfDB, IDB, ADB and the World Bank) and making recommendations to the SREP Sub-Committee.
Ashington has led national and regional projects for various renewable energy technologies, covering financing, markets, policy, regulation, planning, off-grid systems, cooking solutions, enterprise models, gender, technology and energy access. He was lead local consultant for IT Power UK in the development of Kenya's Sustainable Energy for All Action Agenda and design of the Secretariat.
Ashington has acted under PKF Consulting as the Team Leader of the Independent Verification Agent (IVA) for the DFID/ AFD-funded Green Minigrids Facility in Kenya.
He was also involved, as the Lead Consultant, in structuring results based finance facilities for solar PV, cookstoves and minigrids on behalf of SNV, EnDev and GIZ Pro-Solar, respectively. He also prepared investment briefs on solar PV, hydro, geothermal and other RE technologies, for Nowegian Investors targeting Tanzania, Kenya and Uganda and facilitated at forums for the same with the visiting delegation.
Currently, as a Consultant for SNV Netherlands Development Organisation, Ashington is the Team Leader for the SNV's functions as the Facilities Manager for the Kenya Off-grid Solar Access Project (KOSAP), which is funded by the Kenya Government with funding support from the World Bank. In this respect he is responsible for supervision of the deployment of US$ 30 million Debt Facilities, US$ 17 million Results-based Facilities for solar and cookstoves.
Ashington acted as Team Leader in "Designing an ElectriFI Country Window for Kenya" and a similar assignment for Tanzania, on behalf of the European Union (EU). He also completed the strategic plan for the Clean Cooking Association of Kenya.
Ashington has assisted organisations on strategic planning/change and previously managed technical mentoring in Developing Energy Enterprises in East Africa Project covering hundreds of RE enterprises (solar PV, biomass, etc.) in Kenya, Uganda and Tanzania.
With excellent, direct and wide-ranging relations with policy makers, private sector and civil society, Ashington has moderated local and regional forums.
He is a seasoned facilitator, expert discussant, trainer, mentor, and stimulant in change management and institutional capacity development. He arranged, moderated and reported on the East Africa Regional Forum for SEforALL involving Tanzania, Kenya, Uganda and Rwanda.
An articulate writer, he established and is founder editor of Kenya's renewable energy magazine, "Energy Digest", which he publishes in collaboration with the Kenya Renewable Energy Association (KEREA).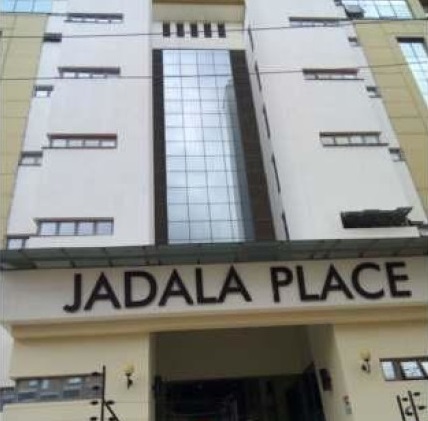 Nairobi, Kenya
Jadala Place
Ngong Lane
Off Ngong Rd